Ronaldinho's Mother Passes Away at 71 of Covid 19 Complications
---
Former Brazil and Barcelona superstar Ronaldinho's mother, Miguelina Elói Assis dos Santos has passed away in Brazil at the age of 71 over the weekend due to complications arising from Covid-19.
She had contracted the virus in December last year but could not survive, with reports confirming her death on Sunday, February 21, 2021.
Miguelina was hospitalised in Me de Dues Hospital in their hometown of Porto Alegre in December last year.
Prior to Christmas, the two-time FIFA World Player of the Year had disclosed that his mother was hospitalised. "Dear friends, my mother has covid-19 and we are fighting so that she recovers soon," the legendary Brazilian said. "She is in intensive care, receiving the best possible treatment. I would like to thank everyone in advance for all of the positive energy you always send. With love. Stay strong Mum."
According to a report in Brazil, Ronaldinho was too upset to go to the funeral, which was attended by his brother, Roberto, and sister, Deisi.
Ronaldinho is yet to comment publicly on his mum's passing, but has blacked out his Instagram profile image since the news emerged.
His former Barcelona teammate Lionel Messi was one of the first few to lend support to the football icon. Messi took to Instagram to post a touching message for Ronaldinho.
Messi wrote, 'Ronnie, I have no words. I can't believe it. Just sending you a lot of strength and a big hug for you and the whole family. I'm very sorry. Rest in peace."
Brazil and PSG star Neymar too shared his sympathies for Ronaldinho, messaging: "Stay strong Roni… I am very sorry."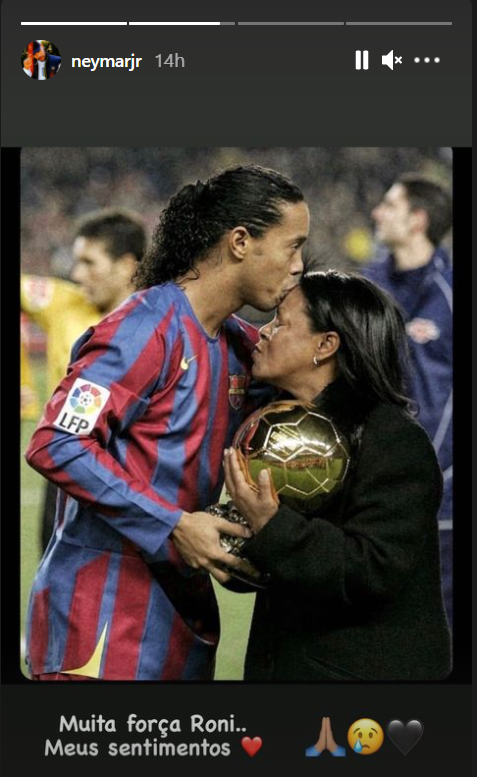 ---