George Floyd's family reacts to Derek Chauvin trial verdict
---
George Floyd's family on Tuesday reacted to jurors' verdict in former Minneapolis police officer Derek Chauvin's murder trial.
The 12-person jury found Chauvin, 45, guilty on all charges including second-degree murder, third-degree murder and second-degree manslaughter, concluding that the ex-cop's actions were a "substantial causal factor" in Floyd's death.
"I feel relieved today that I finally have the opportunity … for hopefully getting some sleep," Philonise Floyd said during a Tuesday press conference after the verdict.
Floyd's brother said he "prayed" and had "faith" that Floyd would be "convicted," calling the past year "a long journey."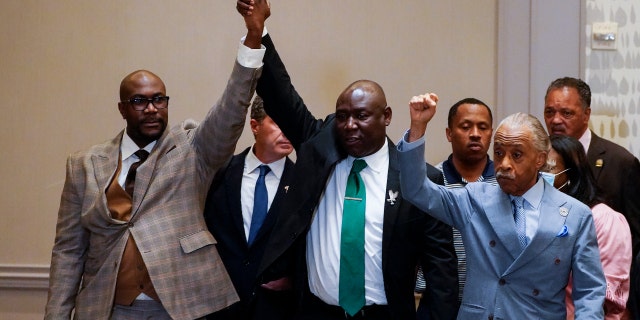 Philonise Floyd compared his brother to Emmett Till, a 14-year-old who was lynched in Mississippi in 1955, calling Till "the first George Floyd," but the difference today, he said, is technology.
"Today, you have cameras all around the world to see and show what happened to my brother," he said. "…I could do nothing but watch, especially in that courtroom over and over and over again, watching my brother get murdered."
Floyd's brother Rodney Floyd said the family has been inundated with messages on social media and comments from strangers who approach them in public.
"This is everyone who's been held down — pinned down — standing together in unity," he said, adding his brother is "smiling," and praised Floyd's daughter, Gianna Floyd, who was present at the conference.
Members of Floyd's family who couldn't be at the trial watched and reacted to the verdict playing out live on TV, according to ABC News and ABC News 7.
WATCH: George Floyd's family reacts to the conviction of Derek Chauvin on all three counts in the death of George Floyd. https://t.co/6nN46Fosol pic.twitter.com/15Q5jiE3oB

— ABC News (@ABC) April 20, 2021
George Floyd's older brother, sister and several family members watched the verdict be read together. Here's how they reacted.

MORE: https://t.co/e49QDYnfYe pic.twitter.com/ZAodwAyo6l

— 7News DC (@7NewsDC) April 20, 2021
"GUILTY! Painfully earned justice has finally arrived for George Floyd's family," Floyd family attorney Ben Crump tweeted. "This verdict is a turning point in history and sends a clear message on the need for accountability of law enforcement. Justice for Black America is justice for all of America!"
GUILTY! Painfully earned justice has finally arrived for George Floyd's family. This verdict is a turning point in history and sends a clear message on the need for accountability of law enforcement. Justice for Black America is justice for all of America!

— Ben Crump (@AttorneyCrump) April 20, 2021
He continued: "We still have work to do! We must pass George Floyd Justice in Policing Act to hold police accountable [and] prevent unjustified killings of marginalized POC."
Crump also posted a video of the family's post-verdict conversation with President Biden to Twitter:
President Biden and VP Harris call the Floyd family after the GUILTY verdict! Thank you @POTUS & @VP for your support! We hope that we can count on you for the police reform we NEED in America! ✊🏾 pic.twitter.com/cg4V2D5tlI

— Ben Crump (@AttorneyCrump) April 20, 2021
---